As part of our lead-in to our 2017 Spring Semillon Release at the cellar door on September 9th and 10th, we're profiling each of our new release wines, including what we think is the perfect meal to accompany it. First up this week – the 2017 Glenguin Vineyard Semillon, alongside Cellar Door Manager Phil's favourite seafood dish of scallops, black pudding and a mint pea puree.
First to the wine.
The 2017 vintage will be remembered as one dominated by heat with half the days in January reaching 35+ degrees, half of those again hitting over 40. Our semillon was picked on February 7, a bit later than normal but with wonderful ripe fruit flavours and high natural acidity.
The wine was vinified in that classic Hunter fashion – immediately pressed off skins, cold settled then fermented to dryness in stainless steel. It sat on lees for four months with a gentle filtering prior to bottling and no malolactic fermentation. Minimal sulphur added.
Pale yellow-green colour, augmented by aromas of orange blossom, candied mandarin and a hint of lime zest. These being supplemented on the palate with crisp acidity and flavours of Tahitian lime, ripe grapefruit and a racy, almost chalky finish. Immediately approachable as a young wine, but let this sit for a few years and you'll be rewarded handsomely. It's classic Hunter Valley Semillon – our best to date? Quite possibly.
So it's no surprise then that when trying to find the perfect dish to pair with it, Phil wasted little time in recommending seafood and one of his favourite dishes.
As Phil recalls: "I first had this dish in a nondescript restaurant back in Canberra, where I'm from. The restaurant was attached to one of the many social clubs around the town – not altogether inspiring, aside from the fact that the chef moved to Canberra thanks to a spouse who had been working in the UK for the Australian Government – the chef himself having trained in London and worked in some high-profile, Michelin starred restaurants.
The dish blew me away the very first time I tried it, so it was a quick decision to see how it paired with the acidity and citrus flavours of the 2017 Glenguin Vineyard Semillon. I wasn't disappointed."
Pan-fried Scallops, black pudding and mint pea puree.
Ingredients
200gm fresh or frozen peas
about 10 fresh mint leaves
100ml good quality fish or vegetable stock
1 shallot, finely diced
1 clove of garlic, grated
6 hand-dived scallops (as fresh as you can get), cleaned and roe removed – 3 per person
1 high quality black pudding or blood sausage (UK-style tends to work best), sliced into 6 slices – 3 per person
100gm butter
dash of white wine (preferably Hunter Valley Semillon)
olive oil
salt
pepper
For the Pea Puree:
Heat small amount of oil in a non-stick pan
Add garlic and shallots, cook until translucent
Add peas, mint, white wine, stock and season well. Cook until the liquid has almost evaporated and peas are mushy when pressed down.
Transfer to blender, blend until a thick puree forms. If puree is too thick, add water or stock until desired consistency is formed and keep warm.
For the  scallops and black pudding:
Heat small amount of oil in a non-stick frying pan.
Add slices of black pudding and cook for a minute on each side or until each side is crisp, maintaining a slight gooey consistency in the middle. Set aside and keep warm.
Generously season the scallops with salt and pepper.
Place scallops in the same pan, placing them at the edge of the pan in a clockwise fashion, starting at 12 o'clock.
Cook the scallops for thirty seconds, until a brown crust has formed.
Flip the scallops over and add the butter to the pan.
Whilst the other side of the scallops are cooking, baste the scallops in the melted butter.
Cook other side for thirty seconds, then remove from the pan and keep warm.
To serve:
Place a large spoonful of pea puree on the centre of a small plate then with the back spoon, press down and work a thin circle of puree.
Arrange three slices black pudding in a small triangle around the centre of the puree.
Place one scallop on each of the black pudding slices.
Garnish with fresh pea shoots (optional).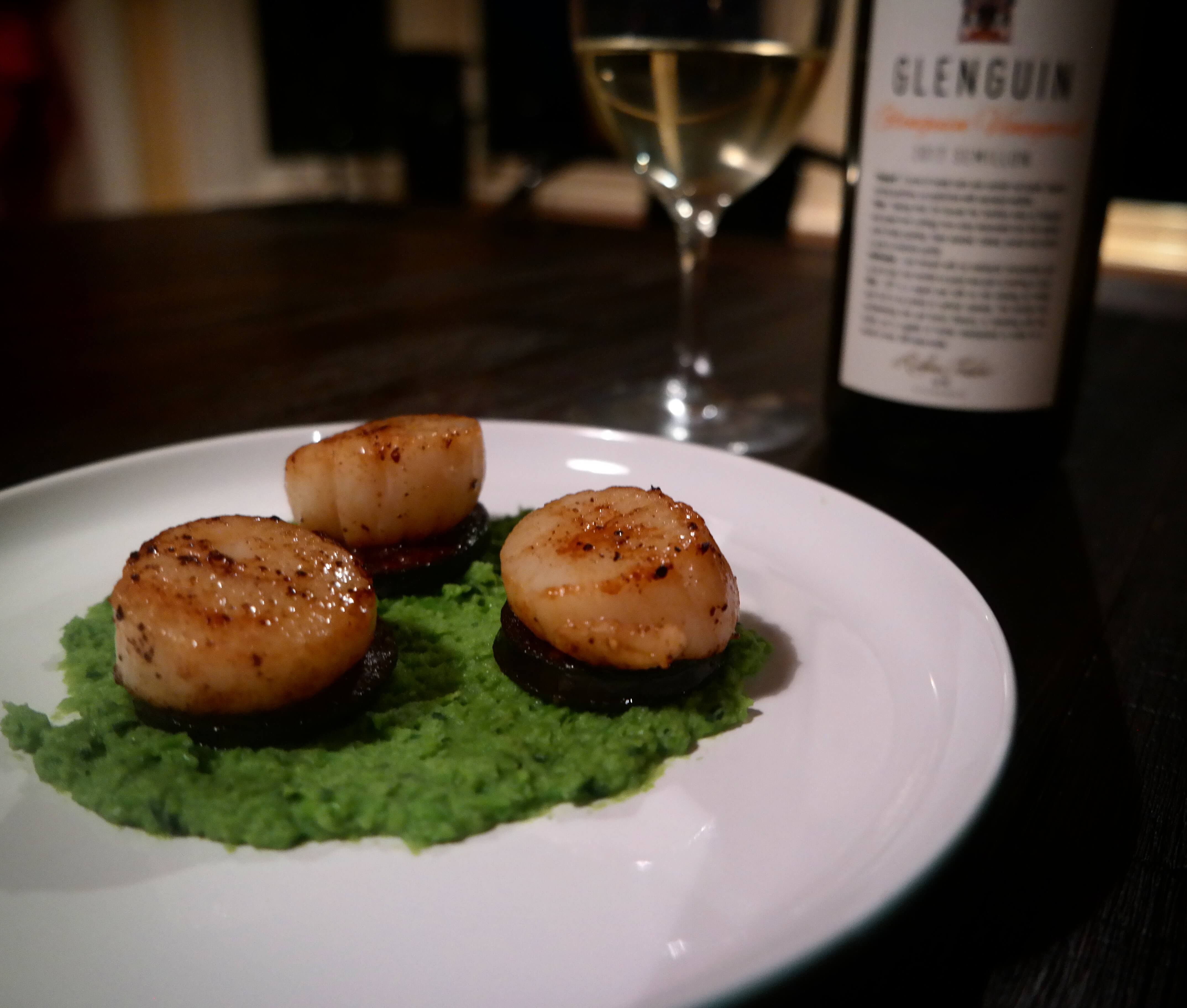 The 2017 Glenguin Vineyard Semillon will be available from the Cellar Door from September 9th. Member's pricing will available for all purchases on the first weekend via the cellar door (Sept 9/10). The wine will be available for purchase online from September 14 for $27.50/bottle.